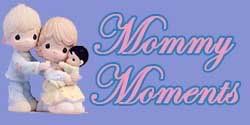 It's another Friday. Before I tuck myself in bed, let me post my entry for this week's Mommy Moments and the subject is RED.


I couldn't find any special RED for me and the little one on my EHD since all my photos for our last vacation got deleted and I don't have a copy here with me. My FIL though have but I have to wait till our next vacation to have a copy from it. So the only thing that was left was this box with a bow (that's what I call it). This was made by my SIL's husband. He made it just in time for Julia's first birthday last year.

So goodnight for now. See you all next week then.